Ranking Every Tekken Video Game From Worst to Best
Only some gaming franchise can get popular as Tekken. First Released for Playstation in 1994 it instantly became a classic and still remains to be one of the most popular franchises for Playstation. With the release of Tekken 7, they are back in the game again and it's better than ever!
Tekken is my childhood game and this is why I am kinda biased on the series but today I am locking down my nostalgia in a room. Today we are counting down the best Tekken games from worst to best.
9. Tekken 6
As with all fighting games, Tekken 6 – just like a certain something else – is fun to mess around with by yourself, but certainly more enjoyable if you can play with someone who knows what they're doing. – 

Game Revolution
Visually spectacular, a great beat'em up in the core, but with the wrong approach in the gameplay, victim of an almost nonexistent online and plain single player modes. Technically a good port, counting that it comes from PS3 ad 360 versions to a handheld, but the final result is far away from the excellence shown in Dark Resurrection. – 

Meristation
 8. Tekken Tag Tournament 2
7. Tekken 1
Tekken isn't the best game to revisit depending on what you're prepared for – characters stay locked to the ground for way too long when knocked down, animations and character models are primitive at best and jumps very rarely go where you want – but it's imperative to acknowledge just how much this made an impact. The action scenes come off disjointed, It makes the work feel stiff at times and not as enticing or enthralling to read and view as you're going from one page to another. – Whatculture
6. Tekken 4
Tekken 7 has the barebones basics for a good fighter, but it's missing the trimmings that make it worth recommending over bigger, and cheaper competition. – CGMagazine
With so much content from the rest of the series present here, Tekken 7 is a celebration of the franchise up to this point. The amped-up combat mechanics and the poignant conclusion to the Mishima story are all steps forward, but they are countered by a number of steps back. The lack of a tutorial, forgettable soundtrack and absence of some staple gameplay modes may alienate newcomers and leave veteran players wanting. – 

Gameplanet
4. Tekken 2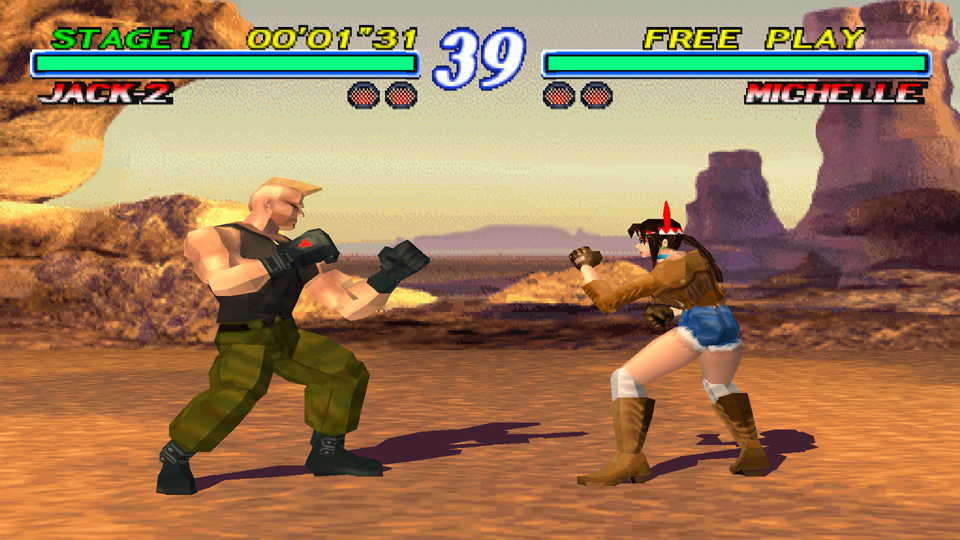 It would have been nice to tangle with foes in cyberspace. This was a lost opportunity to create grand tournaments. This hiccup is negligible, however, because the game is so deep. – 

Detroit Free Press
It's not, however, a lot of new game. Tekken 5 is a hefty package but doesn't offer much in terms of original gameplay or modes. It's a celebration of all things Tekken rather than a brave new step for the series. – 

Game Revolution
A totally lush and vibrant experience.There's a palpable sense of energy in the game, and it shines so brightly it's impossible not to see. – 

GameCritics
2. Tekken Tag Tournament
If you have never played a Tekken game before then prepare for perhaps the best fighting game ever, however, Tekken veterans shouldn't expect too much. – 

Spank!
Although the fundamental Tekken formula has changed a little, the mind-blowing graphics will draw in even the most casual gamers. – 

Happy Puppy
From the revamped graphics to the refined gameplay, this is arcade fighting at its best. 

 – CNET Gamecenter
 1. Tekken 3
In order to outshine Tekken 3, a game will need to have a ton of moves (T3 has over 100 per character), multi-hit combos (all T3 fighters can pull off 10-hitters), outstanding graphics (T3 has no breakup on the fighters, no "blind spots" where clipping occurs, and no slowdown), and seamless gameplay that includes juggles, counters, and linking moves. – 

GamePro
While the backgrounds are 2D, they are rich and diverse and those spot explosions, though pixilated, feature high-quality light sourcing. – 

All Game Guide
The only gripe that we'd have with it is that Namco's set the bar so high that we shudder with anticipation and dread over what the designers have to do to top this. – 

IGN
Which Tekken game do you think is the best? Let us know down below.
#Ranking Every Tekken Video Game From Worst to Best