Best Things In Nintendo Switch Nobody Is Talking About
Right now, it feels as though the general populace is split into three camps with Nintendo's new hybrid machine.
No Installation Times
When was the last time you bought a game, went home and managed to play it immediately, without waiting for patches to download or the game to install?
It's become an increasingly bigger problem thanks to increasingly large file sizes and tighter production schedules, yet thankfully, the Switch doesn't have this issue whatsoever. As every physical game comes on a cartridge, popping one in sees the system recognise it immediately, letting you hop in right away with minimal in-game loading.
Indeed, ever since the PS1 wowed us with the fancy data capabilities and higher quality graphics of CDs, the industry completely shifted over, yet cartridge technology never stopped advancing. Now cartridges are able to store and load games like Breath of the Wild far faster than any contemporary triple-A release, resulting in a far more consumer-friendly experience.
Buying a game and playing it that same evening. Who'd o' thunk it?
Fantastic Exclusive
It's certainly true that Breath of the Wild is an outstanding achievement, but that said, it's not the be-all, end-all of the Switch's launch library – far from it.
Fast RMX is a ludicrously fast anti-grav racer in the vein of Wipeout or F-Zero, and being it can be played in local co-op by passing one of the Joy-Cons to a friend whilst maintaining a 60fps resolution, makes for one of the most accessible and stupidly fast games since Burnout.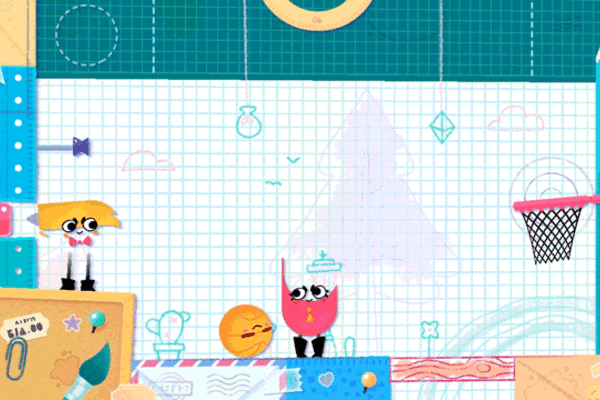 There's also Snipperclips, an indie project where you and a friend play as two pieces of paper, overlaying atop one another and cutting into shapes to solve puzzles. It's innovative, mechanically unique and – despite not being developed by Nintendo – still oozes a very 'Nintendo-like' charm from front to back.
Shovel Knight's developers Yacht Club continue to iterate on the 2D platforming formulae they perfected back in 2014, releasing both Treasure Trove as a combination of Shovel Knight, Plague Knight and Specter Knight's various campaigns alongside a co-op campaign and four player battle mode, or you can pick up Specter Knight's story as a standalone, for a fraction of the price. Specter Knight will be exclusive to the Switch for one month after launch, releasing as a free download for all existing owners of Shovel Knight on other platforms in April.
Upcoming Games
Another controversial fact of life around the Switch is that there are only one or two 'major released games' every month. Now, this scarcity of 'huge games' could be an issue if Nintendo wanted to compete with PS4 and Xbox One, but I feel they're happy letting the two 'big dogs' ravage each other while they continue doing something else entirely.
As let's be honest, you're only ever playing through two – maybe three – at the most, games at once. This whole notion of "Where are all the GAMES?!" for the Switch doesn't hold water, because if there was the equivalent of even a couple of Zelda-quality games, you'd be forever dividing time between them.
If all of Nintendo's staggered marketing is intentional, you've got Zelda, Fast RMX, Shovel Knight and more out now, more indies coming very soon, Mario Kart in April, ARMS in Spring, Splatoon 2 in Summer, Super Mario Odyssey after, and so on.
I'd wager 'one game a month' fits your budget perfectly, allows you to make the most of – and complete – what you previously bought, and slowly builds a library of games you actually appreciate, rather than just collect for the sake of it.
Because when the opposite happens (like we've seen in 2017), there's Horizon Zero Dawn, For Honor, Nioh, Sniper Elite 4, Halo Wars 2 and Ghost Recon: Wildlands, ALL coming within a few weeks of one another.
Source – Whatculture
#Best Things In Nintendo Switch Nobody Is Talking About